Road Trip through Panama
A friend of mine is Panamanian and I was super lucky because he took some time off to show me around in his diverse country. This blog is about our 2 weeks trip through Panama with the car: From Panamá City to Boquete, Palo Seco, Santa Fe and Pedasí. If you want to read more about
driving a car

in Panama, check out this blog.
Boquete: The garden of Panama
Boquete is a small town in the Chiriquí Province, it took us 8 hours to get there from Panama City. Once you get to the city of David you leave the Panamericana (Highway) and it takes another 30 minutes to get to Boquete. On this way you can already feel how the temperature is quickly changing: From the dry, hot air in David to the chilly, clean air in Boquete. Panamanians come here to flee from the heat and some (retired) foreigners have residences in this region. Because of the chilly weather and the fertile soil, fruits and vegetables as well as the famous Geisha coffee, grow in this Province – Boquete is the garden of Panama.
There are a lot of different hiking trails in Boquete. It is not recommended to hike the long, unmarked trails by yourself. In the past people got lost in the wilderness. There are tour operators who offer leaded tours with trained guides. The tours are a bit pricy so we decided to do an easy trail by ourselves. Finca Lerida is a big premise with a trail that leads through the forest, the coffee plantation and gardens of the Finca. There is also a nice viewpoint over the landscape of Boquete and a waterfall in the forest. The trail takes around 2 hours and the entrance is 12 USD.
We booked our Rafting tour with

Boquete Mountain Safari

and had a boat for 4 people, which was 65 USD each. We met at the office of the tour operator at 9 am and took a Minivan for 1,5 hours to the river Rio Grande, close to the Costa Rican border. This was the starting point of our tour. Our guide gave us instructions on how to direct the boat and stopped at interesting points. We saw
Yellow Squirrel Monkeys

climbing in the trees and I was super excited because I love monkeys and this was the first time I saw this really cute species. There was also a

Boa Constrictor Snake

hanging in the tree, which I tried to avoid looking at because I hate snakes. We really had a great time rafting down the river, being surrounded by amazing nature, passing wild animals and local fishermen. At midday we enjoyed eating our lunch at the shore and swimming in the refreshing river. The boat trip took around 3,5 hours; after finishing we drove back to Boquete town where we arrived around 5 pm.
In the three month I spent in Panama, I can easily say, that I had the best dishes in Boquete. I highly recommend this places:
Retro Gusto: Attention, this is food heaven! This place has the best pizza I ever had. Seriously I even don't remember eating such a delicious one on my trip through Italy. The restaurant is owned by a friendly Italian guy who cooks the meals with love and fresh ingredients.

The Rock:

Fancy restaurant with beautiful ambience and very good food but a bit pricy.

Boquete Brewing Company:

Nice bar with good music offering Crafts beer and cider. The place to be for happy hour and meeting people.
In Boquete there are a lot of

strawberry farms

and cafes where you can try lovely strawberry deserts. I had a home-made cheese cake with a fresh strawberry sauce on top of it and it was sooo good!
On Airbnb we found a camper to rent with an amazing view over the landscape, for 40 USD. The camper had space for 2 people and staying there was a great unique experience.
I always wanted to volunteer and learn about natural construction and permaculture. My friend knew a couple who was building a house like this in Palo Seco, a tiny sleepy town in the Veraguas Province. There is almost no tourism and most of the locals are making a living as farmers and fishers. The lot of the couple had an amazing view over the pacific coast. Close to the house were small beaches which we had for ourselves. The beaches in this area have perfect conditions for surfing.
Beside enjoying this beautiful environment, we were there to help building the house and learn more about natural construction. To describe it short: The idea is to build a house with natural materials, without exploiting the nature. For example, the main material for the wall of this house consists of a mix of clay, sand, fiber and water. Building a house like this means living close to the nature and use the material wisely. For the meals, most of the ingredients we used were fruits, vegetables, herbs, etc. from the garden and collected in the area. As the house was still under construction we slept in a tent, showered from a bucket and used a basic dry toilet in the garden.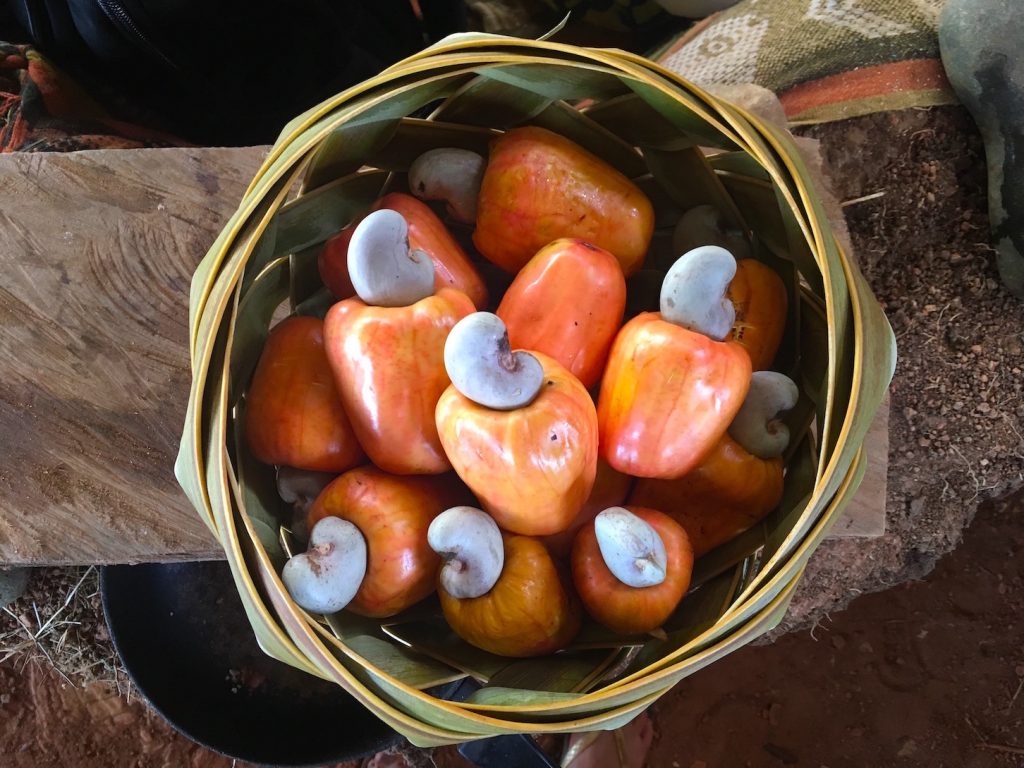 It was a great experience to learn about building this kind of house and living this lifestyle. Especially in Latin-America there are a lot of projects like this and we can all learn a lot from that. If you are interested in volunteering, you can find lot of different possibilities and projects on platforms like

WorkAway

.
Santa Fé is a cute little town with neatly houses and gardens in the Veraguas Province. It is surrounded by the Panamanian Highlands and there is a huge National Park to explore. The park covers mostly primary forest, which means it's almost untouched nature. And this is also how it looks like: an endless green wildness with a big diversity of trees and plants and little wood houses of the local people popping up in this scenery. There is a road through the National Park which ends in the little town Guabal. From there the road is under construction, the plan is to build a road until the Caribbean coast. So in the next few years Santa Fé will be connected to the coast.
The weather in this area is really pleasant, it's has around 20 – 25 degrees and the air is clean and fresh: perfect for hikes and adventures in the beautiful landscape. There are also waterfalls, like the Bermejo waterfall to explore. Buses take you to the starting points of the hikes, but I guess in the remote areas you need a taxi.

What we didn't expect was to find a really good Asian restaurant in the Panamanian jungle: The Anachoreo Restaurant. The Cambodian lady in the kitchen creates traditional meals from their country and the fresh ingredients and spices give the dishes its special taste. The owner told us that they will move away and the restaurant will be closed, so try to go there as soon as possible.

Accommodation: We found a cheap, but clean and comfy private room in the Tierra Libre Hostal for 20 USD.
Pedasí: Sea, sun and beach
Pedasí is a town in the Los Santos Providence, close to the pacific coast. It's a colorful town with street art on some houses. There is a welcoming atmosphere and I immediately liked it when we arrived. The town is surrounded by different beaches that you can reach by bus, car or bicycle. The cheapest private room we found was in a small guesthouse for 30 USD. For solo travelers, the Selina Hostel is another option: 15 USD in a dorm.
Playa El Arenal is a quite long beach with a small bar at the entrance. Luckily, when we visited the beach there were a lot of seagulls on the beach, which made a picture-perfect sunset. In the evening the fishermen came back with their catches of huge fishes and big amounts of them. Several Pick-Up Trucks arrived and buyers waited at the beach with big coolers to buy and take the fish directly away. The fishermen sell at a very good price, we heard that in this region they make very good money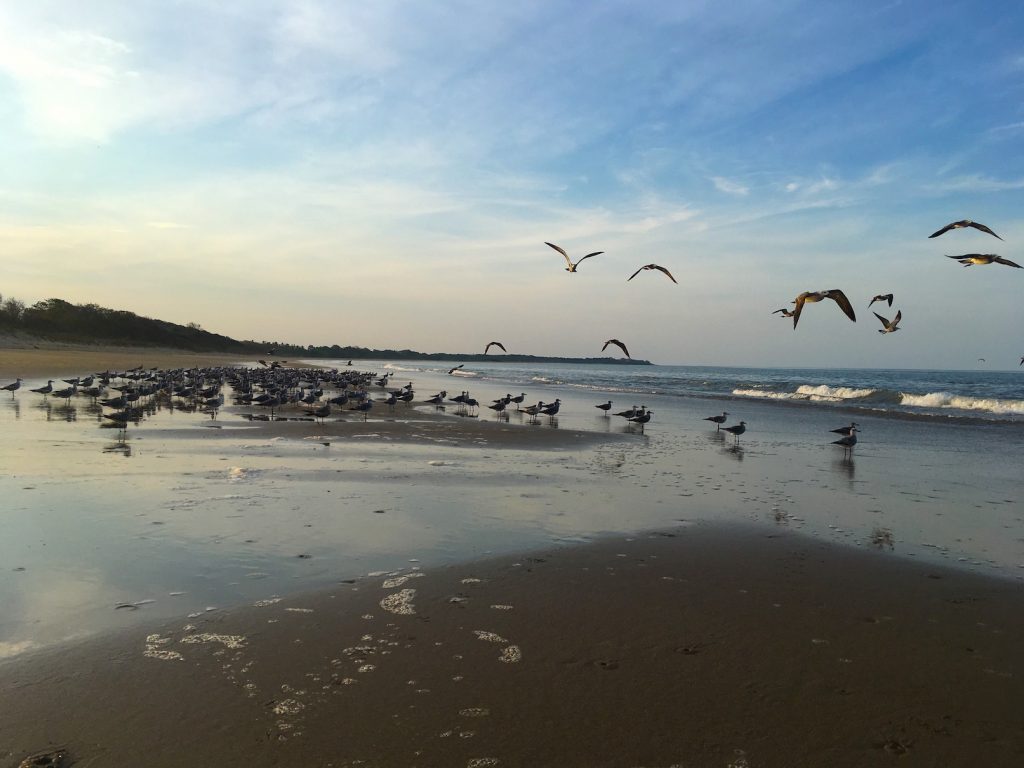 The other day we took a small boat to Isla Iguana. The small fisher boats leave from Playa el Arenal and take 20 minutes to the island. You pay for the whole boat, so the idea is to get as many people as possible to make it cheaper, the maximum capacity is 8 persons. We paid 70 USD for the boat and shared it with two other people, because there was no one else going on this day. The good thing about it was that we were almost alone there. The island is tiny and quiet with two white sand beaches which you share with iguanas. I was amazed by them but also a bit scared when they came close to me while I was laying on the beach. There is no restaurant, only a ranger that takes care of the island. So we brought food and drinks from Pedasí. We spent around 5 hours there and then the boatman picked us up and brought us back to the mainland.
Venao beach is 25 minutes by car from Pedasí town. We stayed for 1 night in the Eco Venao Lodge, a hostel that is changing to a natural and sustainable way. They already produce their electricity from their own solar array, cultivate their plants and fruits in their own organic garden for their restaurant where they offer healthy food. It's a 5 minutes walk to the beach where you can find a surf school and a bar that is formed like a pirate's ship. If you walk up the beach you can also find other hostels and surf schools. I really like this beach because it was relaxed and quiet but if you wanted you could also hang out with other people or go surfing. It's a great place to meet people from all over the world.