Bagan: City of Temples // Myanmar
Bagan was my favorite place in Myanmar because there are beautiful ancient temples, pagodas, stupas and ruins spread all over the city. This place is not only interesting because of its history, but also because of the truly magical and unique sights that you can freely explore. I haven't seen anything comparable in any other country I visited.

Bagan (formerly Pagan) was a Kingdom from the 9th to the 13th century and this period is seen as the establishment of the Burmese culture and the Theravada Buddhism. In the 11th century the ruling King converted to Buddhism and decided to spread this religion. In the following two centuries over 10.000 monuments were built and Bagan became an important center for Theravada Buddhism. Today 2.200 temples, stupas and pagodas remain and Bagan is a one of the largest and most remarkable archaeological zones in Asia.
Boat Trip along Irrawaddy River
To see more of the landscape between Mandalay and Bagan we decided to take a boat along the Irrawaddy River. The boat left from Mandalay at 6.30 am and took 15 hours to Bagan. The trip was interesting because we passed villages, pagodas and different landscape sceneries along the river. In some parts the landscape was green and in other parts it was very dry and sandy, kind of a desert. We took the cheapest boat (18.000 MMK) that locals are using too, so the boat stopped several times on the way. During the stops we could watch the locals (un-) loading every kind of things and carrying it to their villages. Women with their colorful clothes were carrying their belongings on their heads, every step perfectly balanced. The houses were mostly very basic and made of wood or clay. There were children playing on the shore, excited about the boat and waving at us.
In the morning it was really cold on the boat and we put on every piece of clothing that our backpacks offered. Despite watching the surrounding area there is not that much to do on this 15-hour trip, so we read our books, chatted with each other or tried to communicate with the local vendors on the boat, who sold snacks.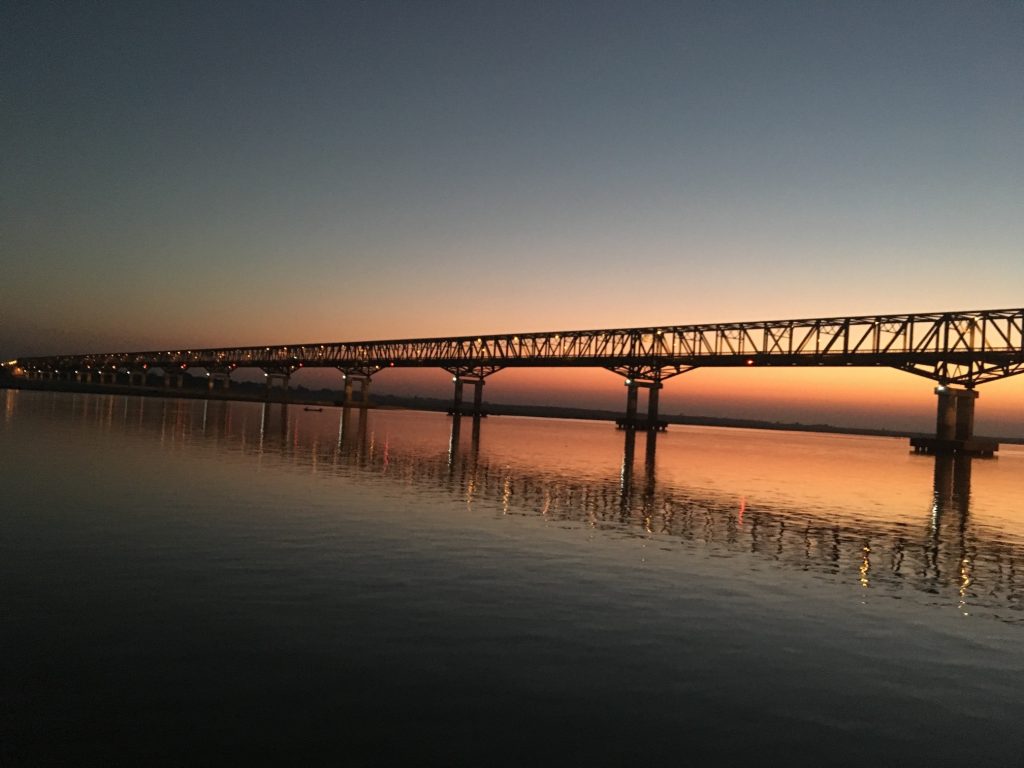 As soon as we arrived in Bagan we had to pay an entrance fee of 15 USD which was valid for one week. We had to carry the ticket with us all the time but were only asked to show it at one temple. The price is fair because there is no entrance fee to pay at any sight.

Bagan is divided into 3 districts: Nyaung-U, New Bagan and Old Bagan. We stayed the first nights in Nyaung-U at the Grand Empire Hotel which was the cheapest in this area. From the port it was a 10 minutes' walk to the hotel. We stayed the other nights in a guest house in New Bagan. It doesn`t really matter in which part of the city to stay because the city is quite small and with a scooter it doesn't take that long to get around.

In Nyaung-U we went to the Mani Sithu Market, where you can find fruits, vegetables, betel nuts and leaves, clothes and souvenirs. Instead of typical tourist souvenirs they sell old things like coins, Buddha figures, books made of bamboo wood and tattoo metal sticks. It felt like walking around a museum when I looked at all these old objects.
We rented a scooter to get around the city. In Bagan tourists are only allowed to rent slow e-bikes until 8 pm (8.000 MMK for 1 day). You can also rent Bicycles if you feel safer with them. In general, the streets are well made and not that crowded. If you leave the main streets to get to the temples, the average path is still of sand. But it's not hard to drive around.
Beside the main sights, you can find small temples, stupas, pagodas and ruins all around Bagan. While driving around I felt like being in a long past time, where the time stands still and you can explore old untouched places and monuments. Some of the monuments are still in their original state, overgrown with vegetation, while others were/ are renovated and shine in their new facades. I imagined how this city must have looked like when it was starting to grow 1000 years ago and became kingdom. How people were dressed, living, working and practicing their religion at these monuments. The area was very relaxed and quiet because there were almost no tourists. Usually we could explore the monuments all by ourselves. Walking in and around the sights was overwhelming, especially if you think about the long history they represent.
My personal highlight of our trip in Myanmar was watching sunrises and sunsets over Bagan. Every morning for sunset there are hot-air balloons flying over the city. A balloon ride is 300 USD per person which was definitely too expensive for us. We watched the sunrise from a small temple next to the Dhamma Ya Zi Ka Pagoda (if you stand in front of the main entrance go to the left for 2 minutes). There were only a few other people, so we could enjoy this beautiful view in a relaxed and quiet atmosphere. The sunrise was around 6.30 am and from our view point we saw many temples and pagodas and the hot-air balloons flying all over the sky.
For our sunset view point, we arrived at the Shwe San Daw Pagoda at around 3.30 pm and were almost alone there. It's one of just a few temples that you can climb up. On top of this pagoda we had a stunning view over the many temples, pagodas and stupas. At around 5 pm busses with tourists arrived for the sunset. It got very crowded on the temple but watching the sunset was still an amazing experience.
We watched another sunset at the Bu Paya Pagoda, which was very nice because the pagoda is next to a river and there were almost no people.
Mount Popa is an extinct volcano, around 50 km outside of Bagan so it's ideal for a side trip. On top of the mountain there is the Popa Taungkala Monastery. From Bagan it took us one hour with the taxi to get there (30.000 MMK for 4 people). There is a stairway leading to the top of the mountain and a lot of monkeys are living there. They might look cute but watch out for your things, because they are cheeky and try to steel whatever looks interesting on you. Once we reached the top of the mountain we got rewarded with a great view over the surrounding green and mountainy area.
Beside the beautiful temples and sights, it's very interesting how the locals are living and working in very traditional ways. They are always friendly and helpful and even with language barriers they were always eager to explain and show everything to us.
Our time in Bagan was really amazing and I would definitely recommend everyone to go there and explore the many beautiful and interesting places of this city!